Our Lot Or Yours
Build on your land
You may have owned land for years or just become the new owner of a lot ready for construction.  Either way, R. G. Williams Construction is ready to make your vision come to life. 
You already have the hardest part and most important step of building a home completed; finding the location best suited to you and your family. We will be happy to do a home site evaluation at no cost to you even before you purchase a piece of property.  We can also guide you through soil evaluations, perk tests etc., to make sure the land is suited to building a home.
Once you've purchased land, finding the perfect plan is the next step.  We can help.  There are two designers we recommend on a regular basis.  You can find their plans online at www.dongardner.com and www.FrankBetz.com.  Both of these architects have won numerous design awards for there curb appeal and functional layouts.  If you are still having trouble finding what your looking for, let us know and we can refer a local architect that will draw up plan specifically design for you.
Our neighborhoods 
Welcome to our hometown! Below you will read about the neighborhoods we build in.  However, what we really want you know is, this is also our backyard. 
"We don't just build here.  Grays Creek is our home.  We live here, work here and play here."
Cori Williams
R. G. Williams Construction currently owns lots within minutes of I-95 and HWY 87 in Swans Creek and Cypress Cove.  Below you'll find more information on both of these communities.
 Swans Creek
S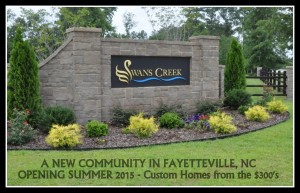 wans Creek is located in Grays Creek, NC just on the outskirts of Fayetteville and Hope Mills in Cumberland County.  The property features 37 generously sized home sites ranging from ¾ acre to 3 acres in Phase I. Although the property is truly rural in nature and location, it provides easy access to HWY 87 and I-95 making the drive to Fayetteville and Fort Bragg a comfortable 20-25 minutes.
The most important distinction of Swans Creek is that it's a development focused on quality, not quantity.  It is designed for home owners who know the difference, and want a home built above average construction, with coveted curb appeal. It's a place to call home for families that desire to live in a neighborhood of value. 
Go to this link www.SwansCreek.com for more information and directions. 
Cypress Cove  
Live the simple life…No lawnmower required!
To some homeowners, endless weekends spent mowing their lawn, pruning their bushes, and painting their homes is an attractive option.  However, over the last few years we've noticed a shift in the housing market that is redefining the expectations and priorities of mature home buyers.
Located next to Cypress Lakes Golf Course, Cypress Cove offers a "low maintenance" alternative to suburban living. Each offer 2411 sq. ft. of interior luxury, as well as virtually maintenance free exteriors.  Providing uptown quality in a rural
private atmosphere, these classic brick homes give this neighborhood a time-honored elegant appeal.               
Homeowners Dues: $150.00 per month (paid quarterly)
Includes: Yard Maintenance, lawn irrigation, trash pickup and general liability on common areas.
We have a few lots left and can customize the interior to your own specifications if needed.  Call 910-323-4488 for more information. *Click here for Directions      *Click here for Covenants
"While these homes tend to be somewhat smaller and more manageable in size, they include all of the goodies with minimal exterior maintenance."      –Rick Williams, Owner